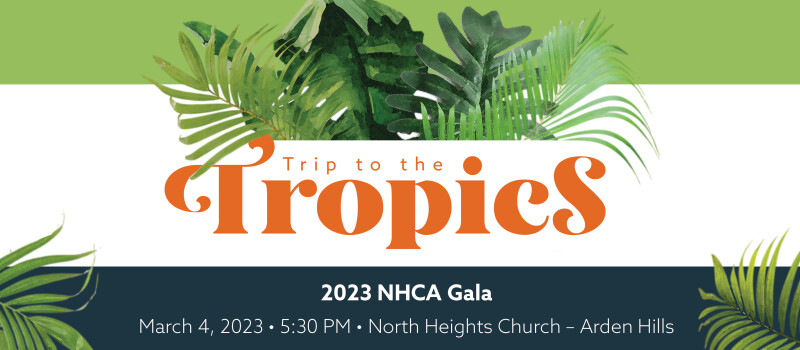 Join us for the Trip to the Tropics Gala on Saturday, March 4 at 5:30pm
North Heights Church Arden Hills Campus
North Heights Christian Academy strives to be a place that prepares students to be lights for Christ in the world. Join us for a very special evening to raise funds for North Heights Christian Academy to continue to support the mission of the school. Our fundraising event last year raised over $50,000 and allowed us to purchase computers, smart boards, lockers, a gaga ball pit and more for the students and classrooms. Our goal is to continue to raise money to improve the school and enhance the environment for NHCA students and families.
The evening will include a social hour, buffet dinner, a silent auction, a live auction, and an update on the goals and vision for the school by Principal Josh Thurston, and time with the NHCA community!
Tickets are no longer available, but there is still make a financial donation.
If you have any questions about the event please contact Chrissy Little at or Emily Herman at
Buffet Menu
Slow Cooked Roast Pig (gluten free, dairy free) – includes sandwich buns, sauces & toppings
Baked Ziti (vegan)
Creamy Coleslaw (gluten free, dairy free)
Buttered Corn Kernels (gluten free)
Macaroni & Cheese
Is the dinner a buffet or sit down dinner?
It is a buffet dinner.
Can I bring kids to the event?
This event is for adults only. We wanted to create a special night for parents and friends to enjoy community with one another.
Are there any dress code requirements or expectations?
This is not a "formal" dress event, we definitely want guests to have fun with their attire.
Men, feel free to pull out those khakis and light cotton floral shirts you got in Hawaii or from your mother in-law at Christmas.
Ladies, think of a summer wedding or a luau and the type of dress or outfit you might wear there! Go to Amazon and enter tropical dresses for women if you need inspiration!